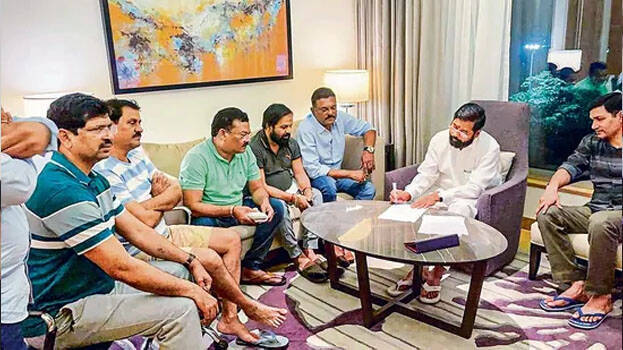 GUWAHATI: As the political crisis continues in Maharashtra, the Shiv Sena rebels led by Eknath Shinde, has taken a crucial step. Eknath Shinde has filed a petition in the Supreme Court challenging the disqualification notice issued by the Deputy Speaker against the rebel MLAs. The vacation bench comprising of Justices Suryakant and J.B. Pardiwala will consider the plea on Monday. The plea also questions the move to reject the no-confidence motion against the Deputy Speaker and also states that the action to remove Shinde and elect Ajay Chaudhary as the Shiv Sena's legislative leader was unlawful.
Meanwhile, the governor wrote a letter to the DGP and the Mumbai police commissioner asking them to provide security to the rebel MLAs.
Also, Uddhav faction was reportedly in touch with 20 rebel MLAs staying at a hotel in Guwahati. The ninth Shiv Sena minister also reached the Shinde camp today. The Central government has ordered to provide Y-plus category CRPF security to 15 rebel MLAs.
At the meeting held today, Eknath Shinde had assured the rebel MLAs that the Union Home Ministry would provide security to their families and homes.