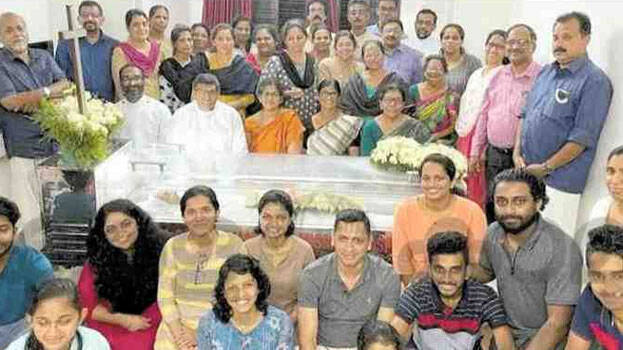 MALLAPPALLY (PATHANAMTHITTA): When Mariyamma bid adieu after a life of ninety-five years, the relatives parted with joy. A photo of the smiling children, grandchildren and close relatives of Mariyamma (95) at her home in Panavel, Mallapally, was circulated on social media and there was a flow of positive and negative reactions. Even Education Minister V Sivankutty is among those who commented.
It is the belief of the CSI Church that if you die, you will go to heaven. Relatives said that Mariyamma they are happily sending her to heaven. Even when Mariyamma's husband Fr PO Varghese died ten years ago, the farewell was a happy one.
Mariamma died on July 17 due to an old age-related illness. The relatives who gathered near the body that night shared the happy experiences of Mariyamma when she was alive. The next morning, they all took a picture sitting next to the dead body.
"She is a mother who raised her children and grandchildren well. We also took care of our mother. I have only happy memories of her. That is why the farewell in death was also made happy.'
Dr Oommen P Nainan,
Mariyamma's nephew