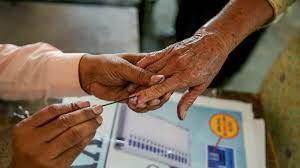 GANDHINAGAR: The first phase of election to the Gujarat legislative assembly will begin tomorrow (December 1) with 89 constituencies going to the polls. The election campaign wound up yesterday. Voting for the rest 93 seats will be on December 5. The election campaign of ruling BJP and opposition Congress was in full swing with heavy loads of controversies and enthusiasm.
The latest controversy was the speech of Congress President, Mallikarjun Kharge, when he compared Narendra Modi with Ravana. He said that from panchayat to parliament elections, Modi says to vote with his face in mind. How many faces does Modi have like Ravana? This was Kharge's remarks.
Yesterday BJP leaders came out heavily against Kharge. BJP Spokesperson, Sambit Patra, said that Kharge's remark follows Sonia Gandhi calling Modi the 'merchant of death' way back in 2007.
BJP Nation President, JP Nadda, and Union Minister, Smrithi Irani, campaigned for the candidates at Bhavanagar and Gandhi Dham. Meanwhile, Union Minister, Amit Shah, and UP Chief Minister, Yogi Adityanath, who came to campaign for the candidates in the second phase of election, created waves across the state.
In the first phase of election tomorrow, one of the prominent candidates is AAP Chief Minister face, Isudan Gadhvi. Also, in the fray in tomorrow's election are former minister, Parshottam Solanki, six times MLA, Kunwarji Bhavalia, wife of cricketer Ravinder Jadeja, Rivaba, and Gujarat AAP president, Gopal Italia.
Prime Minister, Narendra Modi, had campaigned extensively in the state to continue the twenty seven year old BJP rule. For the Congress, National President, Mallikarjun Kharge, and Rajasthan CM, Ashok Gehlot, came for campaigning while Aravind Kejriwal campaigned for AAP.