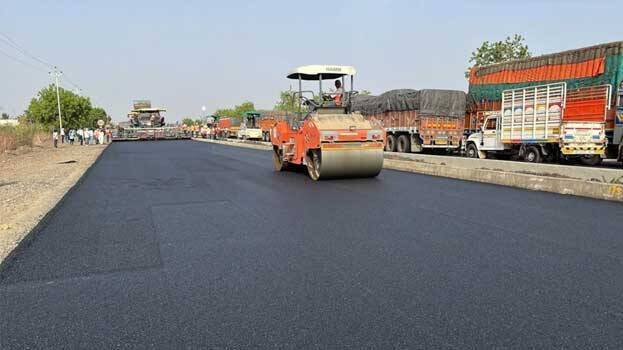 AMRAVATI: India aims to break the Guinness World Record by constructing the longest highway stretch in the shortest possible time. The 75 km road from Amravati to Akola National Highway in Maharashtra is being constructed in record time. India is trying to break the record set by Qatar's public works department Ashghal, which built 25km in 242 hours.
Construction of the road began on June 3. It is expected to be completed by June 7. Guinness World Records representatives are present at the construction site and are documenting the work done here. Rajpath Infracon, the company behind the construction, is trying to complete the road from Loni village in Amravati to Mana village in Akola in 108 hours.
Rajpath Infracon is a well-known company in the field of infrastructure construction. Construction is in accordance with the standards of the National Highway Authority of India. Modern equipment and bituminous concrete are used for construction. 800 to a thousand workers are engaged in construction work.
The company made systematic preparations for the construction of the road. The construction work is being carried out in different squads including project managers, national highway engineers, quality engineers, survey officers, safety engineers and other workers. The team includes 728 officers.
The road construction is part of Prime Minister Narendra Modi's 'Gati-Shakti' initiative for integrated and uninterrupted transportation of people, goods and services across the country. Rajpath Infracon has decided to dedicate the road to the nation on the occasion of India's 75th anniversary.