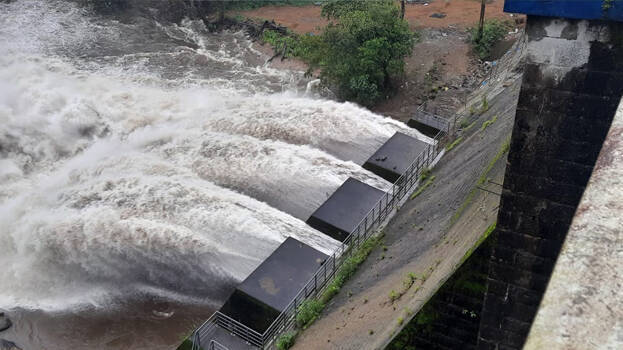 THIRUVANANTHAPURAM: As rains are intensifying in the state again, red alert has been issued in Pathanamthitta, Alappuzha, Kottayam, Idukki, Ernakulam, Thrissur, Palakkad and Kannur. Thiruvananthapuram is on yellow alert. The reason for incessant rains is the presence of an atmospheric circulation over Kerala and a cyclonic circulation over the central Bay of Bengal. Monsoon winds has also intensified.

Extreme caution should be maintained in hilly areas. Landslides are more likely in areas that have received continuous rain in the past few days. Fishermen are also advised not to venture into the sea due to the possibility of high waves and strong wind.
In the meanwhile, with the opening of many dams, the water level in the rivers has risen causing serious concern. The road has flooded again in Pala. Officials have warned people on the banks of Chalakudy River to move to a safe place. The water level in the river is rising. Those who had relocated in 2018 from their areas were advised to shift. There is a warning of heavy rainfall in the next hour in Chalakudy.
Meantime, orange alert has been issued in five districts. Malappuram, Kozhikode Wayanad, Kasargod and Kollam are on orange alert.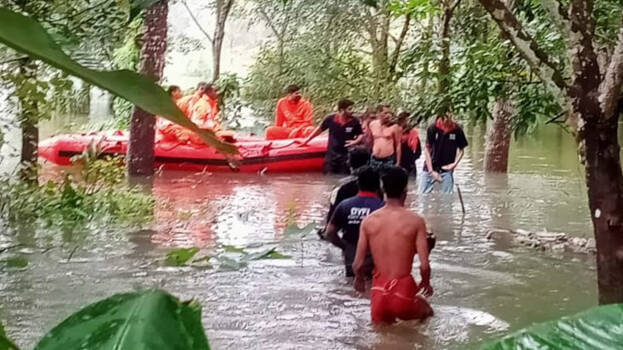 Heavy rains are continuing in Pathanamthitta. The water level in Pampa, Manimala and Achankovil rivers is rising steadily. The district administration warned people on the coast to be careful. People have been asked to shift to safe camps. Floods have worsened in many places in Ranni. The Kudamutty road was damaged. The water level in the Pampa River has risen. Arayanjilimon Causeway has sunk. The Karingali paddy in Pandalam has been flooded. Nathanadi and Cherumala areas are on alert. The police have registered a case against those who jumped into the river in Moozhiyar to catch the log that floated. The water level is also rising in Manimala River.
The Central Meteorological Department predicted that there will be widespread rains till August 8 and a possibility of isolated heavy rains today and tomorrow. A release issued said it is also the result of strengthening westerly winds over the Arabian Sea as a cyclonic vortex prevails over the central west Bay of Bengal near south Andhra Pradesh and north Tamil Nadu.