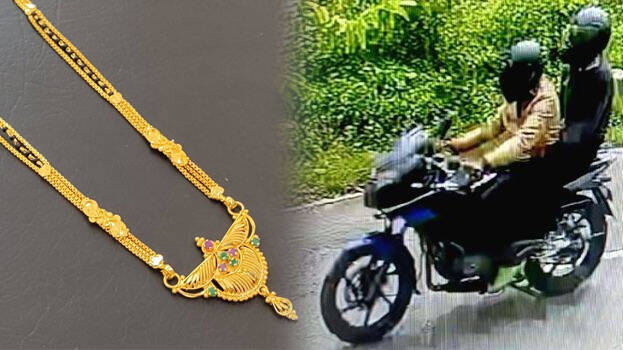 NEDUMANGAD: A woman chased away the thieves who tried to break her necklace by kicking her in the middle of the road here. Swathi (28), a native of Paruthikuzhi, who had gone on a scooter to pick up her husband who had given their vehicle for repair at a workshop in Nedumangad, was attacked by two men on a bike.
The incident occurred on the Uzhamalakkal Nallikuzhi - Paruthikuzhi road around 10:30 am on Tuesday. The thieves on bike came close to the scooter at a deserted place and asked for directions to Aryanadu. The scooter was moving slow as it was going uphill. While giving directions, the person behind the bike kicked the scooter. The woman fell into the vines with her scooter. The young woman got up and picked up the helmet that had fallen on the ground before the bike came. She struck hard at the hand of the thief that was outstretched to break the necklace. After being hit, the thieve sped away, but the woman followed them on her scooter, but couldn't find them. The young woman was wearing a wedding chain of three sovereigns.

The police identified from the CCTV footage that the robbery gang had traveled back and forth through this road several times before the incident. They arrived on a Pulsar bike with a paper pasted on the number plate. Apart from wearing helmets, both of them were wearing handkerchiefs to cover their faces. Valiyamala police has registered a case.