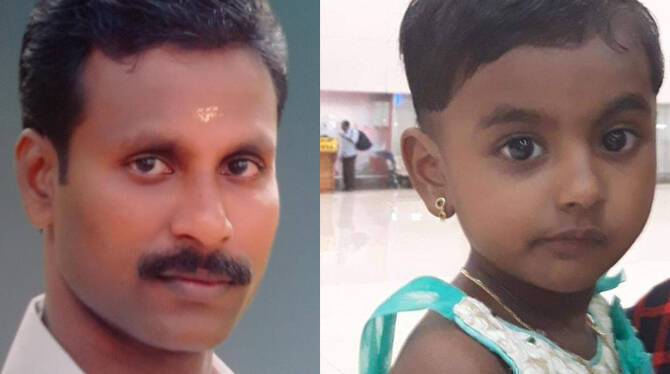 ALUVA: A man committed suicide after throwing his six-year-old daughter to Periyar from the Marthanda Varma Bridge. The two dead have been identified as Laiju (43) of Chengamanadu, son of Chandran, and Arya Nanda, a student of class one of Athani Azizi High School. The incident happened an hour before his wife Savitha, a beautician, came from abroad yesterday.
Arya Nanda usually goes to school in her father's friend's auto. Although the auto arrived yesterday morning, Laiju said that he would drop his daughter to school. Laiju with daughter Arya Nanda went to Aluva on his bike. After parking the bike there, he threw his daughter to Periyar from the bridge after posting a message on his family WhatsApp group stating that he was ending life and also asked everyone to forgive him. Though some women pedestrians saw this and shouted, Laiju also jumped into the river.

In a search by the Aluva Police, Fire Force and diving experts from Uliyannoor, the bodies of Laiju was found at 3.30 pm and Arya Nanda's was found from the market side at 5.30 pm.

Laiju had a plumbing and electrical shop in Puduvasseri SNDP Building. Initial reports said financial crisis led him to take the drastic step. After post-mortem at Aluva District Hospital this morning, the bodies were cremated at the UC College crematorium. Laiju's mother is Shantha. His son Abhaya Dev is a class 5 student in Aluva Vidyadhiraja School.