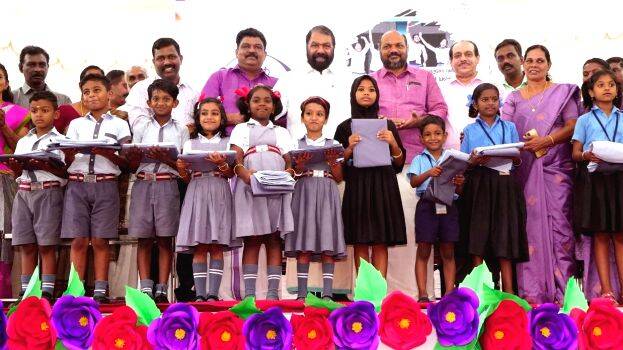 ELOOR: Education Minister V Sivankutty said that 9,32,898 students in the state will be provided with free uniforms before the opening of schools. He was inaugurating the distribution of handloom uniforms at the Eloor Municipal Town Hall. The first uniform was handed over to Gopikrishnan, a Class One student of Eloor Govt LP School. While Hanveev will provide fabric from Thrissur to Kasaragod, Hantex will provide fabric from Ernakulam to Thiruvananthapuram.
"Emphasis will be given to the academic improvement of children. The students will be prepared for competitive exams. Residential training will be provided during vacations to improve the quality of teachers. Meetings of PTA presidents from all schools will be organized. The functioning of PTA and MPTA will be reformed," the minister said.
"Parents will be trained during the holidays to strengthen anti-drug activities. Activities will be carried out as per the report of the committee appointed to make Plus One admission scientific," he added.
Industries Minister P Rajeev presided. Public Education Department principal secretary APM Mohammed Hanish, director K Jeevanbabu, Hanveev managing director Arunachalam Sukumar, additional director CA Santhosh, Eloor municipal chairman AD Sujil and others participated.