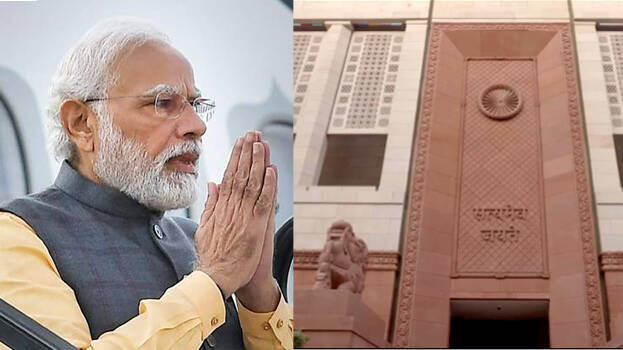 NEW DELHI: Ahead of the inauguration of the new Parliament Building, Prime Minister Narendra Modi started a campaign by sharing the footage of the new Parliament with the hashtag #MyParliamentMyPride.
"The new Parliament building will make every Indian proud. This video offers a glimpse of this iconic building. I have a special request- share this video with your own voice-over, which conveys your thoughts. I will re-Tweet some of them. Don't forget to use #MyParliamentMyPride.", the tweet reads.
The new Parliament building will be inaugurated on May 28. The first phase of the ceremony starts at 7.30 am with special pujas. Prime Minister Narendra Modi, Lok Sabha Speaker Om Birla, Rajya Sabha Deputy Speaker, Union Ministers and others will participate in the puja. After the puja, the Prime Minister will install the sengol (sceptre) in the Parliament building.
The Deputy Speaker of the Rajya Sabha will read the message of the President and the Vice-President in the second phase of the ceremony to be held at 12 pm. Narendra Modi will release a special stamp featuring the new Parliament building and a Rs 75 coin. Then Prime Minister will then speak and the function will conclude with a vote of thanks by the Lok Sabha Secretary General.