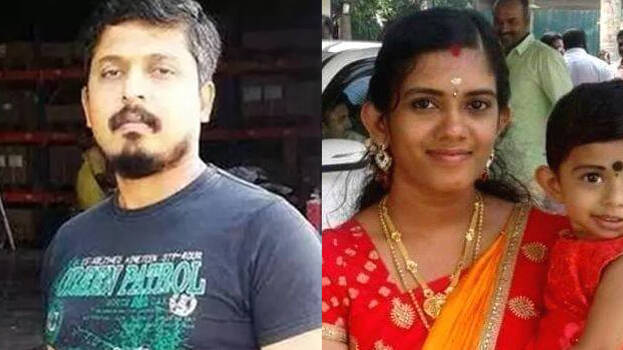 ALAPPUZHA: The family of Sree Mahesh's wife came with shocking accusations just two days after the murder of six-year-old Nakshatra. It was on June 4, 2019, that Sree Mahesh's wife and Nakshatra's mother Vidya committed suicide by hanging. According to Vidya's family, marks of slaps and wounds were seen on her body at the time of death.
Vidya was the youngest of two daughters to Lakshmanan and Rajasri. The marriage between Sree Mahesh and Vidya happened on October 17, 2013. Sree Mahesh tricked the family into believing his occupation as a nurse in Dubai. Mahesh also took a hefty dowry that had 101 sovereign gold. However, just after one year into marriage, Mahesh returned to Kerala and settled into native life moving ahead just with the pension of his father. He never turned up for work again but became a pathetic drunkard. Physical assault and abuse to Vidya turned normal in her later life. The family never tried complaining to the police out of shame. However, the family got the need and has now decided to write to the CM to initiate further investigation into the death of their daughter VIdya.
Vidya's father Lakshmanan was settled in Dubai when one day he received a shocking call. The voice across the receiver said, "Vidya is missing". Rajasri was then ordered to reach Mahesh's house. Mahesh's mother was locked in a room when Vidya's mother reached the house. After barging into one closed room, the family found Vidya hanging loose from the ceiling. She was rushed to hospital but couldn't be saved. Mahesh also tried committing suicide then but was saved by the quick intrusion of neighbors.
After Vidya's death, two-year-old Nakshatra was taken by Vidya's family. It was later in 2020 that, Mahesh reached Vidya's home asking for custody of Nakshatra. Mahesh also occasionally reached Vdya's home asking for more money to clear the impending debts.