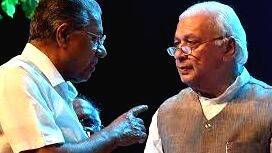 THIRUVANANTHAPURAM: With Governor Arif Mohammad Khan making an unusual move by calling a press conference at Raj Bhavan and lashing out at the Chief Minister and the government, the state is worried about an administrative crisis.
The governor has also made it clear that he will not sign the controversial Lokayukta and University Amendment Bills passed by the Assembly. The government will have to find persuasive ways to break the deadlock as it depends on the governor as the head of the state for day-to-day transactions. However, with the situation worsening, it remains to be seen what steps will the government take.
Responding to the Chief Minister's allegations in a harsh language, the governor clarified that he set for a battle with the government. Left leaders, including state ministers, soon came out lashing out at the governor. The UDF, which welcomed the governor's stance of not signing the controversial bills, did not indulge in other controversies. However, the BJP came out with strong support for the governor.
The government cannot legally move against the governor's negative approach to bills passed by the legislature. Therefore, the Left Front may seek the option of moving to legal action through a Public Interest Litigation in the court. On account of the governor's visit to the RSS chief the other day, the CPM has intensified the campaign that the governor is making political moves for the RSS and the Sangh Parivar. But the governor replied that RSS is neither a banned organization nor an outsider of India.
The letters released by the governor yesterday indicate that he was irked by the University Amendment Bill, which limits the chancellor's control over the search committee for the appointment of the vice-chancellor. According to the governor, the introduction of the University Amendment bill is ironic and insulting after the Chief Minister clarified in his letter that the governor should not vacate the post of chancellor and that the government would not encroach on the autonomy of the universities. He asked whether he should sign such an illegal bill. Stating that he will not allow anyone to interfere in the legal affairs of the universities as long as he is the chancellor, the governor also threatened to use his powers of prosecution.
In his letter to the Chief Minister, the governor had pointed out a newspaper report that the Council of Higher Education had prepared a recommendation to transfer the powers of the selection committee for the appointment of University VCs from the governor. The governor had even directed the CM to take over the power of the Chancellor without using such a pressure strategy. In the reply given by the Chief Minister, it was said that the government is not planning to bring any change in the procedures of the selection committee to appoint VCs. The governor got provoked when the government passed a bill to bring a change in the search committee without consulting him.