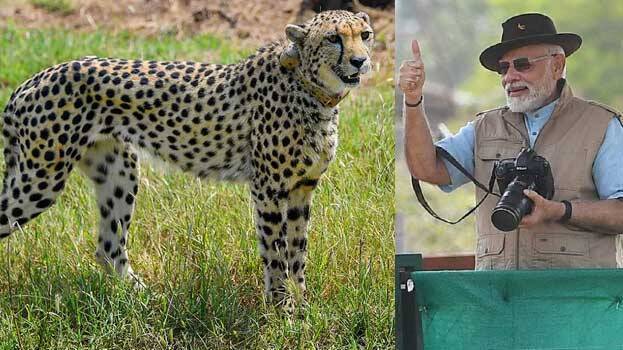 NEW DELHI: Prime Minister, Narendra Modi, asked the citizens to suggest names for the eight Cheetahs that were brought from Namibia. The names must reflect the cultural ethos of our country. He gave his call to name the Cheetahs during his weekly 'Mann Ki Baat' address.
Modi also requested the citizens to come forward with good instructions about how to take care of the Cheetahs. He said that it is our duty to look after animals.
The Prime Minister, wearing a fedora hat and jacket, had released the Cheetahs by turning the lever of the wooden cage on his birthday. He opened the cage containing two male Cheetahs and another cage 70 meters away at the Kuno National Park in Madhya Pradesh. The Chief Minister of the state, Shivaraj Singh Chouhan was also with him.
The Cheetahs were released into a special quarantine area. The wild animals will be observed for one month and will be later let loose into the national park where they can roam freely. It is after 70 long years that the fastest animal in the world is reintroduced into the Indian ecosystem. The Cheetahs, which were once a part of Kuno National Park went extinct in 1952.
The move to reintroduce Cheetahs into the Kuno National Park was part of the 'African Cheetah Introduction Project in India' which began in 2009. Five young female cheetahs and three males were brought from Namibia.
The Prime Minister also spoke about the significance of sign language in his monthly address. He said that the National Education Policy has given attention to raising the standard of sign language and added that many courses on sign language have been introduced at the school level on 23 September.
Modi said that sign language has helped Manju, a resident of Kerala, in so many ways. He was referring to Manju, living at Cherthala in Alappuzha, who is deaf and mute from birth itself. Incidentally, both her parents are deaf.
Manju had passed B.Com from NISH situated in Thiruvananthapuram and is studying at ASLRTC currently.