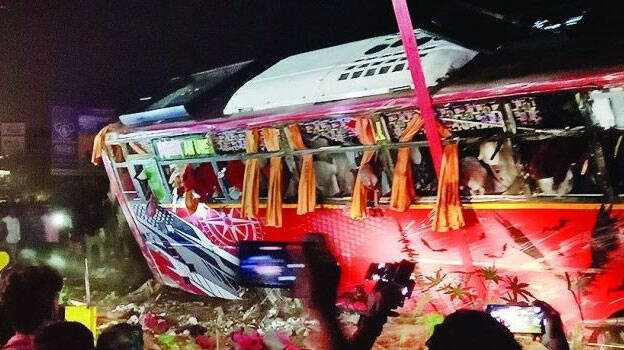 PALAKKAD: Reports said the tourist bus which met with the accident in Vadakkanchery has been blacklisted. This bus has been blacklisted under Kottayam RTO. The owner of the bus KL 05 AU8890 is Arun. Officials of the Motor Vehicle Department said five cases have been registered against this bus.

The cases against the bus are for installing flash lights. Such lights are installed in this bus in such a way causing difficulties for the vehicles coming from the opposite side. Other cases include illegal air horn and driving on the road after violating rules.
However, there is no hindrance in running the service even if blacklisted. The officials of the motor vehicle department responded that the bus operated service taking advantage of this benefit. There has been a lapse on the part of the school authorities. School authorities are required to inform the officials of the motor vehicle department in which vehicle they are traveling with the students. The most important thing is that it was not followed.

Nine lost their lives when a tourist bus carrying students rammed into the rear of a KSRTC bus in Vadakanchery. More than fifty people were injured. The reason for the accident was the over speed of the tourist bus. The tourist bus hit the KSRTC bus while overtaking another vehicle.

The over-speeding tourist bus overturned after hitting the rear of the KSRTC bus. After hitting, it moved slowly and fell into a swamp. The accident happened while trying to overtake the KSRTC bus. Eyewitnesses said the tourist bus overtook other vehicles. In the impact, a part of the KSRTC bus was inside the tourist bus.

The rescue operations started immediately after the accident. However, the effort of taking out those stranded in the tourist bus was difficult. Many people were taken out after cutting large chunks of the metal. Some died on the spot itself. Many passengers of the KSRTC bus fell on the road.

The rescue workers said the KSRTC bus braked suddenly when a person showed hands. Sudheesh and Jijo, who came for rescue operations, stated that though the over speeded tourist bus applied brakes, it couldn't stop.
The accident happened near Palakkad Vadakkanchery Anjumoorthy Mangalam Kollathara Bus stop at 12.30 am Thursday morning. The bus carrying children of Mar Baselious Vidya Niketan School in Mulanthuruthy in Ernakulam hit behind a KSRTC bus going to Coimbatore from Kottarakkara.