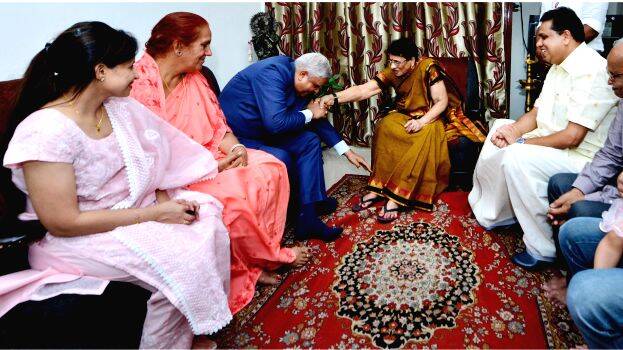 PANOOR: Vice President Jagdeep Dhankar kept his word as a beeline security convoy arrived in front of 'Anandam", the residence of Dhankar's old teacher Ratna Nair from his School days in Rajasthan. Meeting his teacher, the senile Dhankar never minded his age-related ailments but kneeled down to seek her blessings by touching the feet. Ratna Nair embraced Dhankar and introduced him to her home. The vice president was all jubilant and introduced his wife Sudesh Dhankar to his old teacher.
The Vice President eulogized the role of teachers in society and then revered the contribution of Ratna Ma'am to his life saying it was cemented into his heart for eternity. The talks later traveled to old pupils and faculties of Sainik School Chittorgarh. Dhankar Later tried the idlis and chips made by his teacher and had it with true craving later rating it as sumptuous. He spent almost 30 minutes with his teacher to revel anecdotes from his Rajasthan days. Rtana Nair remembered Dhankar as "a young boy in khaki, sitting in the first row, fully concentrating on the class". Assembly Speaker A N Shamseer was also in attendance at Ratna Nair's residence.
The Vice President reached the residence from Kannur airport at 2:20 pm. The official hassles kept his talks measured as the old pupil departed from his favorite teacher's home at 3:10 pm. Ratna Nair as a parting gift to Dhankar gave a Vigneshwara idol to hold all memories of a lifetime together. The president held the idol close and left his teacher with another handshake, fingers trembling this time as emotions poured in between the two.