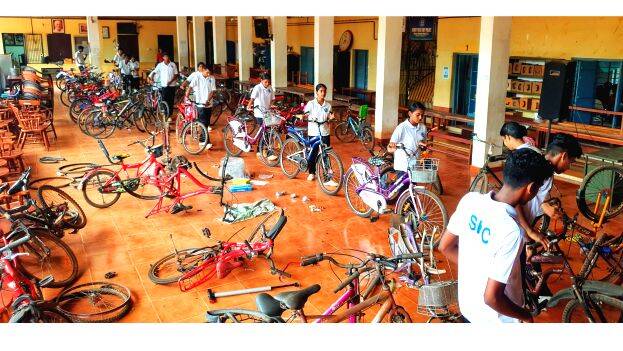 KANNUR: The long vacation time is nearing its fag end and Payyanur Kandankali Shenoys govt higher secondary school is busy mired in some serious work. The student police cadets from this school compensated their vacation time to be in school only for a noble cause — To gift 100 new cycles to children from financially backward homes. These cycles are not brand new but used. Minor to major repair works are carried out by students with proper instructions from faculties.
The SPC camp conducted as part of the summer vacation gave impetus for this program. Through media, the school asked for used cycles to be donated. Within a day's time, more than 100 people responded with many ready to offer their cycle to the school. Fish seller Rahim Murikoval rented his pickup for free to collect all these cycles from far away as Kasargod.
The school asked for service from many cycle experts but all denied. It was through sheer luck that the authorities met O K Premraj who had the know-how and expertise in the field after serving a long 30 years. Premraj along with the cadets worked for more than 88 days to make the cycles turn effective on the road matching a newly purchased one. Almost Rs 2 lakhs got spent to purchase necessary mechanical fittings needed for the cycle. The SPC and the cadets hope the amount can return if generous minds come forward with help.