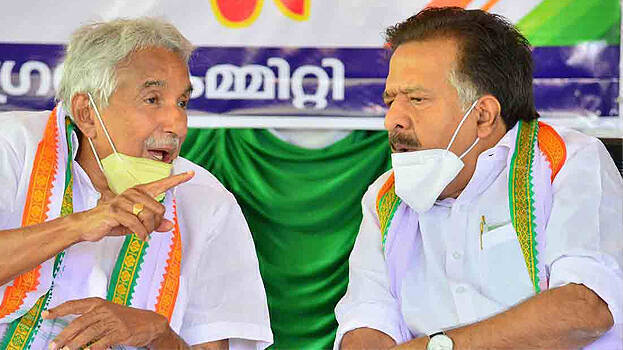 THIRUVANANTHAPURAM: Angered by the new party leadership for ignoring them and not valuing their views, former Chief Minister Oommen Chandy and former Leader of the Opposition Ramesh Chennithala skipped a meeting of UDF leaders yesterday. The absence of the senior leaders, who had not reported any inconvenience when the agenda of the meeting was informed three days ago, came as a surprise to the Congress leadership.

Although both Chandy and Chennithala went to the Assembly building to cast their votes in the Rajya Sabha elections, they did not go to the nearby Cantonment House to attend the UDF meeting. KPCC president K Sudhakaran, who was in Kannur, did not attend the meeting. He had informed his inconvenience to the Opposition Leader.
It is learnt that both Chandy and Chennithala are upset with the leadership for ignoring their demands and complaints. They are also reportedly unhappy with AICC General Secretary KC Venugopal's moves to bring the party under his control. Oommen Chandy was also incensed by the action taken against former KPCC secretary MA Latheef, his loyal aide in Thiruvananthapuram.
Though Chandy had lodged a complaint with AICC president Sonia Gandhi, no action was taken.
However, Opposition Leader VD Satheesan said that Oommen Chandy and Ramesh Chennithala had informed him that they would not attend the meeting as there were no important agendas.
Speaking to the media, UDF Convener MM Hassan said that Oommen Chandy and Ramesh Chennithala were the ones who should explain why they skipped the meeting. "It was an urgently called meeting. I don't know why they skipped it. They had not informed us about any inconvenience. The opposition leader and I will inquire why they did not attend the meeting. If they have any grievances in the Congress, it is not up to the UDF convener to resolve them," he said.