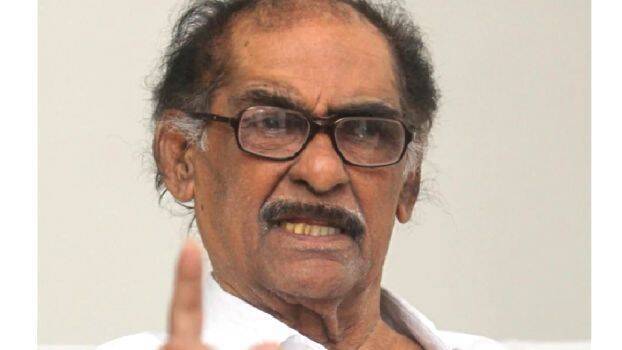 THIRUVANANTHAPURAM: Famous director Crossbelt Mani has passed away. He was 86 years old. He died at his residence in Thiruvananthapuram due to an old age-related ailment. He has directed more than 40 films. He has done cinematography for 10 films. His real name is Velayudhan Nair.
The second film he directed gave him the name Cross Belt Mani. NN Pillai's play was made into a film of the same name. The script and dialogues of the film were prepared by NN Pillai. The film starring Sathyan and Sharada as brother and sister was a huge financial success. Leading director Joshiy started his career with Crossbelt Money. Crossbelt Money switched on Joshiy's first film, Tiger Saleem.
Mani, who passed Intermediate from Mahatma Gandhi College, Thiruvananthapuram, came to Merryland Studios to study photography. He worked with P Subramaniam from 1956 to 1961. He first became a freelance cinematographer in 1961 for the film 'Kaalpadukal' directed by KS Antony. He made his directorial debut in 1967 with Midumidukki.
He directed films like Manushyabandhangal, Puthrakameshti, Shakthi, Nadinadanmare Avashyamund, Pennpada, Kuttichathan, Thamarathoni, Chottanikkara Amma, Yudhabhoomi, Pennpuli, Pattalam Janaki, Aanayum Ambariyum, Blackbelt, Panchathanthram, Youvanam Daham, Eettapuli, Thimingalam, Pennsimham, and Devadas.
Bullet, Chorakku Chora, Blackmail, Revenge, Ottayan, Kulampadikal, Urukkumanushyan, Naradan Keralathil and Commander are some of the films that Crossbelt Mani has done cinematography and direction. He shot most of his films in his own studio in Vattiyoorkavu under the name Srikrishna. The studio later became his home. Parents: P. Krishnapillai, Kamalamma, Wife: Sreemathiyamma, Children: Roopa and Krishnakumar.