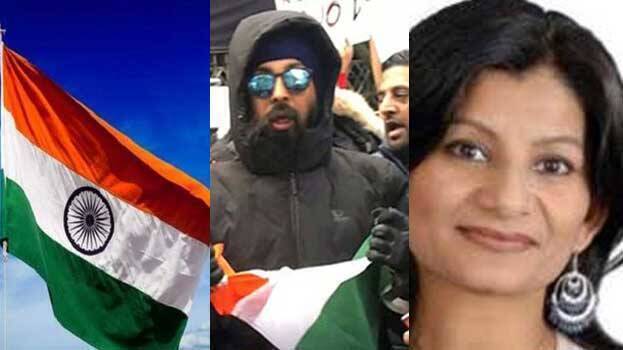 LONDON: The relationship between India and Pakistan hit a new low ever since the bifurcation of Jammu and Kashmir. Meanwhile, Pakistani citizens are holding protests against India in various parts of the world. Now a video was released showing a group of Pakistani protestors holding a protest outside the Indian embassy in London by vandalizing the Indian national flag.
The video shows the protestors raising slogans such as 'Modi, make tea, not war' and 'Liberate Kashmir.' Things began turning ugly when the protestors started tearing the Indian flag as part of the protest while police officials and media remained as mere observers. The protestors were also seen mutilating the Indian flag by stamping it on the ground.
This is when Indian journalist Poonam Joshy came forward to defend the national flag. She immediately snatched the torn flag from the protestors and brought it back to the Indian supporters. She later said that even though she came there to report about the incident, she was unable to keep herself away from preserving the pride of the nation. She said, "Even though I was there as a journalist, I couldn't withstand what was taking place and really hurt my pride. As I was standing outside the police cordon, I instinctively ran over to the Pakistani side, grabbed the first part of the flag off the floor and the second part from the other man's hands. This earned a reprimand from the police who ordered me behind the barriers, which I refused to do."
As per reports, four protestors have been arrested by the police in connection with the incident. The video is currently going viral on social networking sites.