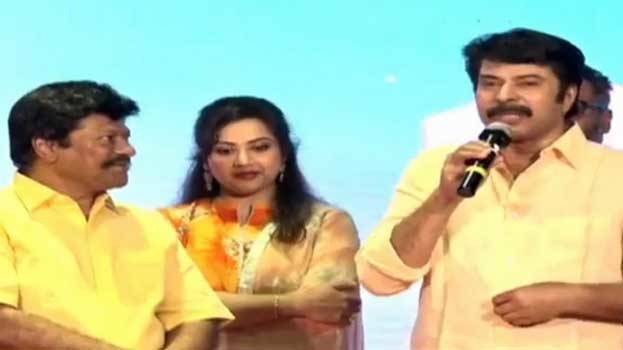 Mega star Mammootty unites lovers who got estranged 28 years back. This incident is not in life, we are talking about the hero and heroine of Mammootty's new flick Shylock. Actress Meena and director Raj Kiran are the hero and heroine. The title launch of the film which has Mammootty in the lead role was held in Kochi the other day. Mammootty said this story at the function and this made the audience laugh.
Mammootty said the film tells the story of a moneylender, a very stingy person. Raj Kiran sir is the actual hero of the film. Meena is the heroine. Hero's heroine. It was sir who introduced Meena in 'En Rasavin Manasile'. Acting together after a gap of 28 years is a big thing. It is a big responsibility. We are uniting estranged lovers here.
The shooting of Shylock written by debutants Bibin Mohan and Aneesh Hameed will begin on August 7. Cinematography is handled by Ranadive. Gopi Sundar scores music for the film.
Mammootty is presently acting in Ramesh Pisharoddy's Ganagandharvan. Mammootty plays singer Kalasadan Ullas in the film and Vandhita plays his heroine. After completing this film, he will reach the shooting location of Shylock.
Mammootty has M Padma Kumar's big budget film Mamangam in his kitty. The film is produced by an industrialist Venu Kunnappally under the banner of Kavya Film Company.