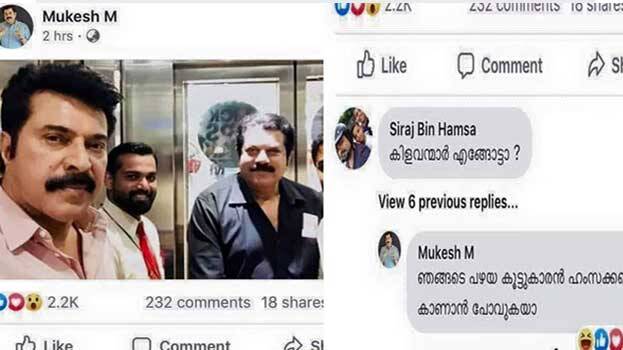 Social media is often considered as a boon for many as it allows easy communication between those who are miles apart. However, it also has certain cons and it is mostly film stars and celebrities who get subjected to the problems created by social media.
Recently, a picture appeared showing actor Mukesh along with megastar Mammootty and two fans. The picture was uploaded on a page which appeared to be belonging to Mukesh. Soon, a person named Siraj Bin Hamsa took the opportunity to take a dig at the veteran actors by asking, "Where are you old guys going to?" However, Siraj soon became a laughingstock in front of others when Mukesh replied to his comment by saying, "We are going to meet our old friend Hamsa (Siraj's father)."
The comment soon became viral as several people took it to be the actor's comment and began spreading it. However, Mukesh noticed this and stated that it wasn't him who mentioned Siraj's father. He said that the page which posted the comment was not his official page and must have been one taken care by a fan. He also added that mentioning one's father is not his way of dealing with a situation.