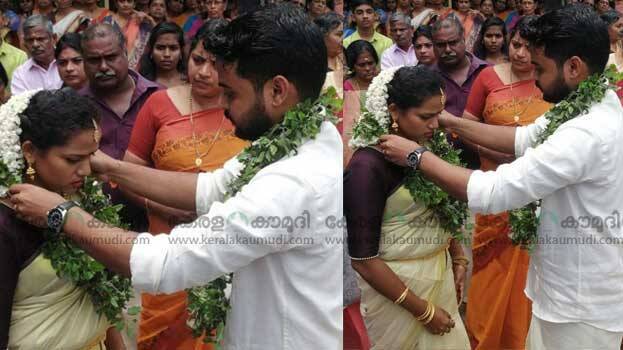 ALUVA: A woman police who was on duty at the flood relief camp, met a youth of the camp and fell in love with him in 2018. Finally, on the first anniversary of the floods, the two got married.
Surya, a native of Palakkad and a civil woman police officer reached the relief camp at Carmel St Francis D Assisi Secondary School at Ashokapuram in Aluva. She became friendly with Vineeth staying in the camp with his parents. The two was very active in relief activities and became very close. She came for duty from the camp in Thrissur. Vineeth's house in Ashokpuram was under water in the floods and so shifted to the camp.
Their relationship grew stronger and went a step further and got married at the Durga Bhagavathy Temple in Ashokapuram yesterday. Vineeth is a teacher at a private entrance coaching centre in Aluva. Many including Anwar Sadath MLA attended the function.