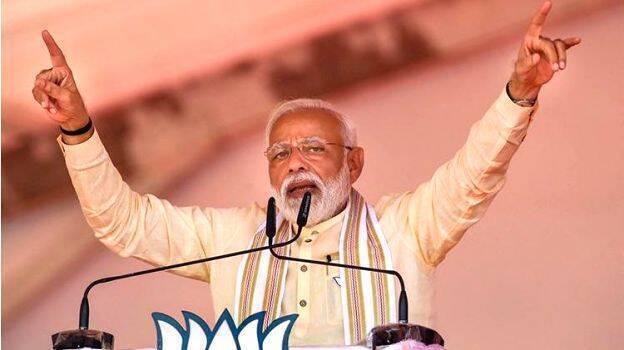 MUMBAI: Stepping up attack on the Congress and NCP over abrogation of Article 370, Prime Minister Narendra Modi on Sunday dared them to declare in their manifesto that they will bring back the provisions which gave special status to Jammu and Kashmir.
He accused the opposition parties of politicising the issue of Article 370 and charged them with "speaking on the same lines as that of the neighbouring country". Attacking the Congress and NCP, Modi said it was "unfortunate" that they were "politicising" the "unprecedented" decision of scrapping of Article 370.
Their leaders thought exactly the opposite of what the entire nation feels about Jammu and Kashmir, he said. "You look at the statements made by Congress, NCP of late...They seem to be speaking one lines of the neighbouring country," Modi said, without naming the leaders as he apparently referred to Pakistan.
Accusing the opposition leaders of shedding crocodile tears on the issue of Article 370, he said, "I challenge them, if they have guts, declare in their manifesto for state election and future polls too, that they will bring back Article 370 and 35A, which the BJP, the Modi government scrapped...that they will change the August 5 decision." "Stop shedding these crocodile tears," Modi told the opposition parties.
During his speech, Modi referred to Jammu Kashmir and Ladakh as the crown of the nation. "Jammu Kashmir and Ladakh aren't just a piece of land for us. They form the crown of our great nation. I assure you that it won't take more than 4 months to normalise the abnormal situation that has persisted there for 40 years," he said during his speech.
According to Modi, the members of the Valmiki community in Jammu, Kashmir and Ladakh were even deprived of their human rights. "Today, I bow before Bhagwan Valmiki as I have the fortune to embrace our brothers from the region," he added.