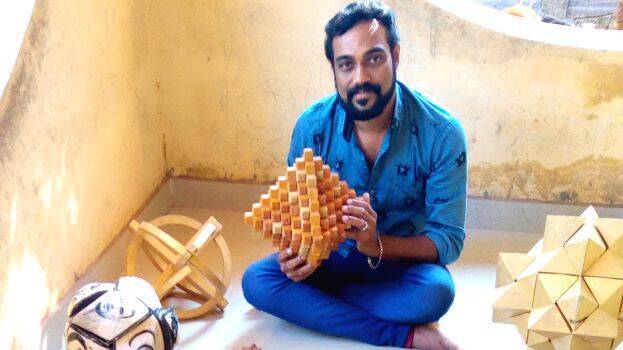 MALA: Ilsung who belongs to the lineage of iconic carpenter called Perunthachan now lives in the midst of Edakoodams. 'Edakoodam' is a word familiar to most Malayalis, which means 'a puzzle which is difficult to solve'. But Edakoodam is also a curious toy similar to the Rubik's cube.

For this 40-year-old man, Edakoodam is the product of his intelligence and challenge.

In a room at his Thankulam Edayamkunnathu house near Mala, there are lots of Edakoodams made by Ilsung.
This can be manipulated, dismantled and re-fixed as in the case of Rubik's cube. This is also a tool for increasing the blood circulation in palms as some pressure is applied to manipulate it.

Ilsung started the manufacture of Edakoodams 8 years ago.

After marriage, when he went to his father-in-law Sadhanandan's house, he saw a beautiful Edakoodam of eight pieces made by his father-in-law . It was Sadhanandan who trained Ilsung in the art of making Edakoodam.

Later, when his son was two years, he built one using three pieces and now that number has rose to 339. Ilsung is also a good carpenter and learnt carpentry from his father Thankappan.

He is a well-known mimicry artiste, as well.