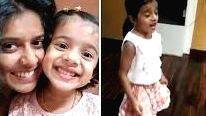 Singer Sithara has shared a video of her daughter Savan Rithu (Sayu) teaching her a song on her Facebook page. The cute little girl sits on the lap of her mother, cuddles up to her and teaches the song 'Pambayaarin Panineerkkadavin…'

Sayu trains her mother like a seasoned music guru, even singing the detailed 'sangathis' of the song. She makes her mother sing the lines repeatedly until she gets the notes and lyrics correct.


The manner in which she teaches the songs, at times, evokes chuckle from her mother and she covers her mouth to control it.
Seeing her mother loosing seriousness, the little girl gets cheeky with her mother and tries to punch her nose.

"Let us begin. ready 1, 2, 3... Pambayarin Panineerkadavil. I saved myself from the punch with the little hand as I blocked it in the right time. If a student keeps kidding when a thing is being thought seriously, anyone will lose temper...that is natural," Sithara writes on her Facebook along with the video.

Earlier also Sithara has shared posts of her daughter but this is a curious video and it is going viral.