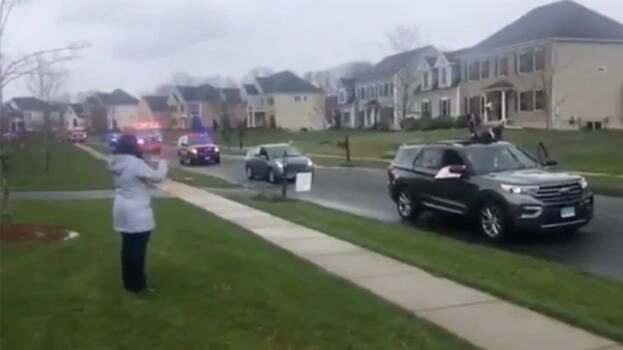 CONNECTICUT: Doctors, nurses and other healthcare staff are working on the frontline, dutifully serving patients in the fight against the coronavirus outbreak. Most healthcare workers have been working in longer shifts risking their lives to save others while combatting daily challenges like shortage of PPEs and other issues. Their efforts have been lauded and people across the globe have taken to social media to praise the health workers.
Business tycoon Harsh Goenka shared a video on Twitter of a doctor getting praises from people in a unique way that has gone viral. In an emotional video that is been widely circulated online, medical practitioner Dr Uma Madhusudan is seen outside her house getting 'Thank you' praises from cars passing by with passengers holding placards in a 'Drive of Honour'.
The car rally also had the fire brigade trucks and police cars with neighbours holding 'Thank You' placards for her. The elated doctor is seen thanking them and waving at them.
According to the Star of Mysore, Dr Madhusudhan studied at the JSS Medical College in Mysuru and is currently working at the South Windsor Hospital in the US.
"Dr Uma Madhusudan, an Indian doctor, was saluted in a unique way in front of her house in USA in recognition of her selfless service treating Covid patients," the caption for Goenka's post read.