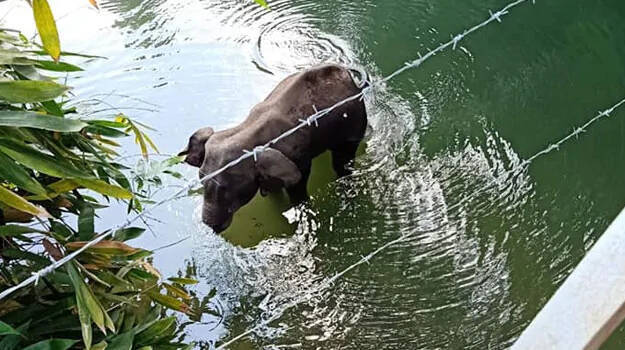 PALAKKAD: A man was arrested and another detained on Friday by the joint investigation teams of the police and forest departments in connection with the brutal killing of a pregnant elephant at Silent Valley near Palakkad-Malappuram boarder in Kerala.

The arrested man is P Wilson, an employee of an estate that cultivates cash crops and spices in Ambalappara, said Forest Minister K Raju, adding that more arrests will be there by evening.

The two men have reportedly told interrogators that in order to drive away wild boar, they set up a snare of fruit filled with crackers to scare away wild boars. This they do because the animals often eat away their crops.

The investigation has been expanded to include Karuvarakundu of Malappuram district. The reason for this is, another elephant, injured in similar manner, has been found in Nilambur forest areas. The mouth injury of both elephants were found to be same.

In farmlands and plantations, using of such baits to hound away or kill wild boars and other wild animal has been a common practice. The police are trying to find out whether explosives used in these area have semblance with the one used to kill the pregnant elephant. They are also collecting the details of people resorting such to cruel practice to keep away animals.

In the incident, the Forest department and Mannarkkad police have filed separate cases.

Meanwhile, the locals had, the other day, come out with the allegation that the Forest department didn't do anything to save the injured elephant even after she roamed around human habitats for days. On being informed, the department officials only tried to send her back to the forest.

The locals have also urged the government to probe this aspect also. But, the Forest department refuted this allegation and said they had sought the service of veterinary doctors.