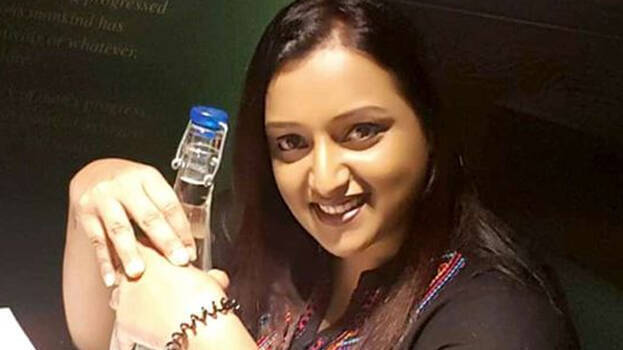 THIRUVANANTHAPURAM: Swapna Suresh, the second accused in the gold smuggling case, was arrested on Saturday. Another accused Sandeep Nair was also arrested after this. It was NIA officials who arrested Swapna and Sandeep from Bengaluru.
Both will be brought to Kochi on Sunday.
The two persons had been absconding evading arrest for seven days. The NIA was able to find out the accused by tracing the phone calls made by them.
At the time of arrest at 7pm on Saturday, Swapna's husband and child were with her. She was hiding in one Sudheendra Rai's flat at BTM layout.

The arrest was carried out by NIA Hyderabad unit officers and two women constables from Bengaluru police.

Officers from Kochi NIA unit reached Bengaluru on Saturday night and questioned her. Though earlier report said Sandeep was with her, he was arrested later from some other place. Both would be produced before Bengaluru Magistrate on Sunday and brought to Kochi for questioning.

After that, their arrest will be recorded and they will be produced in the special NIA court. Since both are UAPA accused, they have been provided security by CRPF.
The police could track down Swapna by following the phone calls from Swapna's child's phone. Customs had also been searching for them with the help of Intelligence Bureau and CBI.

The information received by Customs is that Swapna and Sandeep fled to Tamil Nadu from Thiruvananthapuram via Palode and Kulathupuzha. From Tamil Nadu, they reached Kochi and according to the instruction of their lawyer there, they went to Bengaluru.

The NIA sniffed out there travel route and closed in on them in Bengaluru.

According to sources, Swapna got the help of higher-ups to cross several containment zones and reach Bengaluru.
Phone calls trapped them

Swapna had put new SIM card in her daughter's phone and called her lawyer and a few others from that phone. On Saturday 12 pm, that phone was ON for less than two minutes.

The Cyber forensic wing of the NIA could easily track down the location using the above information. The information in this regard was passed on to Bengaluru unit of NIA.

Sandeep was also traced with the help of the phone call received by his brother at his Nedumnagadu house. The call came when the house was being raided by Customs.

During the raid, ovens, bags, boxes and car used to transport smuggled gold, black plastic covers used for packing gold were identified.

All these items will be taken into custody. The NIA team had also come here in search of Sandeep.