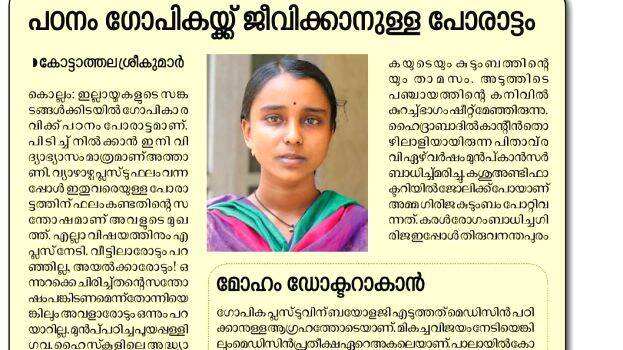 KOLLAM: Studying was a struggle for Gopika, who wanted to become a doctor. Now she is happy that her dream of becoming one has come true. Gopika cannot thank Kerala Kaumudi enough for its support. She is the daughter of late Ravi and Girija of Puthenvila house in Karingannoor in Kollam.
The news about Gopika published by Kerala Kaumudi made the coaching center in Pala provide her coaching free of charge which included accommodation and food.
She was told to secure admission to PGIMSR Medical College, Chennai under ESI within a week on the basis of rank in the entrance examination. The preparations for it are with the help of the Rani teacher of Pooyapalli school. Admission is based on ESI quota.
Gopika passed with A + in all subjects in Class X and Plus Two examinations. Kerala Kaumudi published the news of her remarkable performance on May 12, 2018.
Not only she was provided with a facility for entrance study, but also with the help of some good people in panchayat a new house was also built. Although her dream of becoming a doctor is becoming a reality, Gopika is still struggling financially.