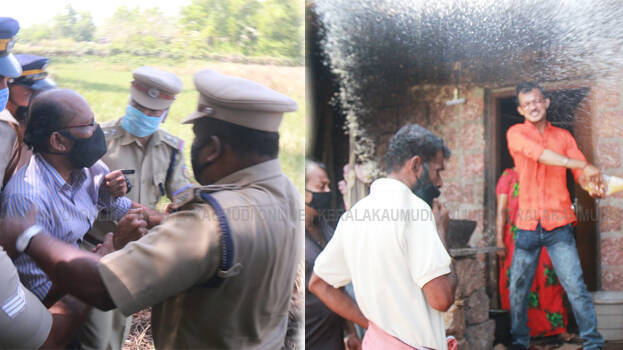 KANNUR: Major protests were witnessed when authorities came to acquire land at Thuruthy in Pappinisseri. A resident tried to commit suicide by dousing petrol on his body. The youth has been identified as Rahul Krishna.
A major scuffle broke out between the residents and the police. The police took into custody the leader of the protestors' panel following the clash.
The acquisition proceedings started in the area in the morning itself. In the first phase, the land of those who agreed to give land were measured. The other areas were measured in the afternoon. It was during this time that an unexpected move was seen from the side of Rahul Krishna.
Nishil Kumar, the leader of the protestors' panel was taken into custody for leading the protests and organising people. A major scuffle broke out when efforts were on to take more into custody.
There are 29 houses in the area. Revenue officials said 12 houses had agreed to give their land. However, the locals said that it was a fake consent letter and their colony would be wiped out following unscientific construction of the road.