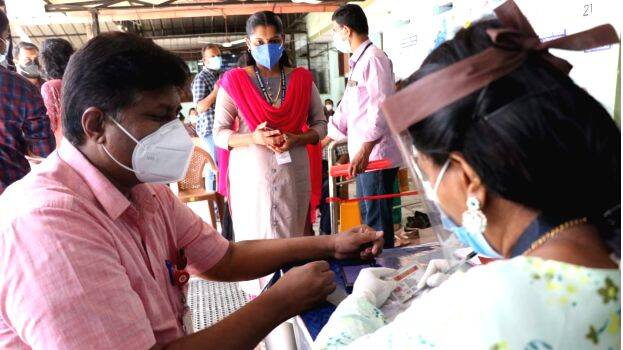 THIRUVANANTHAPURAM: On the first day of the vaccination drive in the state, 8062 health workers received the Covid vaccine, Health Minister KK Shailaja said. The target was to vaccinate 11,138 people at 133 centers in the state. Palakkad district had the highest number of health workers (857) receiving the vaccine. Vaccination was carried out at 12 centers in Ernakulam district, 11 centers each in Thiruvananthapuram and Kozhikode districts and 9 centers each in the remaining districts.
Alappuzha 616, Ernakulam 711, Idukki 296, Kannur 706, Kasaragod 323, Kollam 668, Kottayam 610, Kozhikode 800, Malappuram 155, Palakkad 857, Pathanamthitta 592, Thiruvananthapuram 763, Thrissur 633 and Wayanad 332-this is the district-wise breakup of the number of people who received the vaccine on day 1. The vaccination was held from 11.15 am to 5 pm after the inauguration of the Prime Minister. No side effects have been reported with the vaccine so far. The health department had made all the arrangements to deal with any side effects. AEFI is available at all centers for emergency treatment. Ambulance service was also provided.
The Minister said that Kerala is ready for the second phase of Covid vaccine. The registration for the second phase has also been completed in the state and more centers are being set up, KK Shailaja informed.