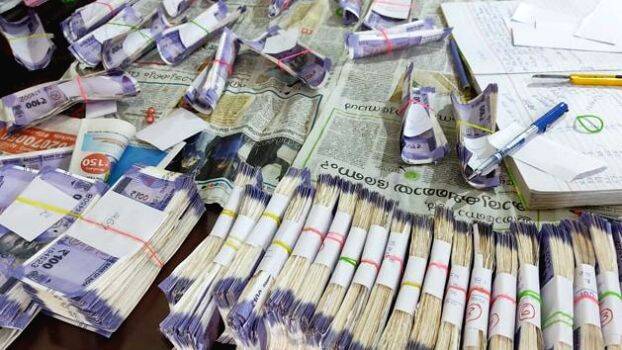 KATTAPPANA: The Kambamettu police and the Idukki Narcotics Squad arrested a group of six persons, including a Malayali for possessing counterfeit notes worth Rs 3 lakh. The arrested are Sebastian (42) from Kumily, Muthuvendran (43) from Coimbatore, Churuli (32), Maharajan (32) from Chinnamanur, Maniyappan (30) from Kambam, Pandi (53) from Veerapandi and Subayyan (53) from Uthamapalayam. 100 counterfeit notes were seized from them.
The Scorpio car and bike used to smuggle the counterfeit notes were taken into custody. A few days back, the Kambamettu police got information about a gang of counterfeiters based in Tamil Nadu. The police then made contact with the intermediaries in the fake group pretending to be people in need. They were told that on paying Rs 3 lakh, they can get Rs 6 lakh in counterfeit notes. Accordingly, when they came to hand over the money yesterday, the group was caught. But the group tried to deceive the police by changing the place where the money was hidden. They said the notes were kept in a box full of flowers brought in the Scorpio. But after searching here, nothing was found. The police then found Rs 1 lakh in a secret compartment at the top of Scorpio and Rs 2 lakh from the bike of two of the accused. The accused were produced in Nedumkandam court and remanded.
The accused were arrested by Kambamettu CI. G Sunil Kumar, officers Haridas, Shibu Mohan, Saju Raj, Suneesh, Binumon, Sajikumar, Nitish, Vinod Kumar, Joshi, Mahesh, Anoop and Tom Zachariah on the instructions of Idukki district police chief R. Karuppasamy, Narcotic DySP. A.G. Lal, Kattappana DySP NC Rajmohan.