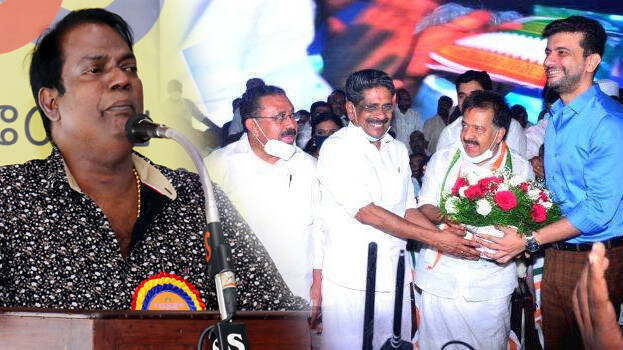 THIRUVANANTHAPURAM: Film artist and national award winner Salim Kumar have never shown any hesitation in expressing his politics. On Tuesday, Salim has expressed dissent over ignoring him from the inauguration ceremony of IFFK in Kochi. With the statement issued yesterday, Salim Kumar's political stand has again come to spotlight. Hours after Salim Kumar's statement, Ramesh Pishordy and Idavela Babu took part in the opposition leader's Aishwarya Kerala yatra. When artists are lining to express their politics, Salim Kumar unveils his stand on political issues to Keralakaumudi Online.
Do you believe that political differences were the only reason for not inviting you to IFFK inauguration ceremony?
In Kochi CPM-led film festival is going on. I heard that 25 award winners from Ernakulam district will take part in the inauguration ceremony. I also heard that national award winners are also there in the list of invitees. When I enquired why I was not invited, I got the reply that I am too old. If age is the determining factor then Ashiq Abu and Amal Neerad were my juniors in college. There is not much age difference between me and them.
I thought that as I had got three awards from the government, I will also feature in the list. But later I heard nothing about it. Later I called Sohanlal, member of the festival committee to enquire about the issue. He said that this time priority would be given to young actors and not to senior actors. Here age is not the issue, the bone of contention is my politics. Despite being an award winner, I was ignored because am a Congress sympathiser. I strongly believe that a CPM festival is going on here. They have proved earlier that they can do anything with the artists. That's why the artists were asked to away the awards from the table.
When many in the film field hesitate to reveal their politics, Salim Kumar has always echoed his political stand. How do you earn the courage to do that?
I have no dearth of courage to echo my political stand. That's part of my personality. The greatest treachery is not revealing your political stand. I only need the love and respect which I deserve. Revealing my politics doesn't involve, opposing anyone.
Are you satisfied with the academy's response aired by its chief after this controversy?
Well, nobody could undo what happened. At least it should try to avert such incidents in the future. Nobody should play such dirty politics with an artist. There are many other platforms to air and reveal individuals political stand. Such ceremonies should not be filled with politics.
Artists like Dharmajan and Ramesh Pishordy are venturing into Congress politics. What is your opinion when many from the film fraternity are openly revealing their political stand?
I am very happy for them. Many were not expressing their politics due to fear, because they fear similar incidents which happened to me, could also happen with them. Pishordy has sought my opinion on entering into politics. I told him that he could have many bad experiences and if he has the courage to face them, then joining politics won't be a wrong decision.
Will V. D. Satheesan win from Paravur?
V D Satheeshan will have a landslide victory. Us, the people of Paravur will have the finance ministry for the next five years.