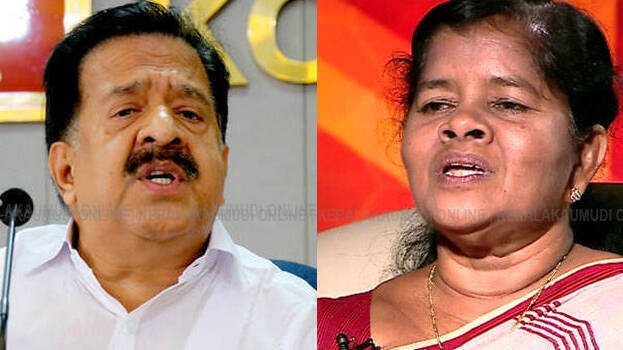 THIRUVANANTHAPURAM: Opposition leader Ramesh Chennithala has alleged that through the EMCC agreement a purported attempt was made to plunder Kerala's marine resources. He also asked for the resignation of minister Mercykutty Amma for cheating the fishermen in the state. He alleged that the minister is also part of the conspiracy.
"The ministers now say that the agreement itself stands against the state's fisheries policy. Why haven't they said it earlier? The minister conducted discussions with EMCC in 2019 August. Why the project was not rejected then? Mercykutty Amma has lost the merit to continue in the position. It was Mercykutty Amma who met the chief minister along with the company's representatives. A big conspiracy held under the garb of the state's fisheries policy. How did the firm get a project worth Rs 500 crore without valid documents?" he asked.
"It was a lie that the company was sent back citing that the project stands against the fisheries policy. At first glance itself, this project seems to be a death knell for the fishing communities in the state. A big conspiracy has taken place in the project under the leadership of the chief minister and other ministers. Union minister V Muraleedharna has said on Tuesday that the company do not have a definite address and the external affairs ministry in its investigation have found the firm is a bogus one. If this turns out to be true then the government has committed a grave mistake," Chenithala added. The opposition leader also asked how the government can hand over a contract for building 400 shipping vessels to such a firm which do not have a definite address.
The opposition leader has also informed that the fishermen will stage a satyagraha in Poonthura tomorrow morning from 9 am onwards demanding the roll back of the project