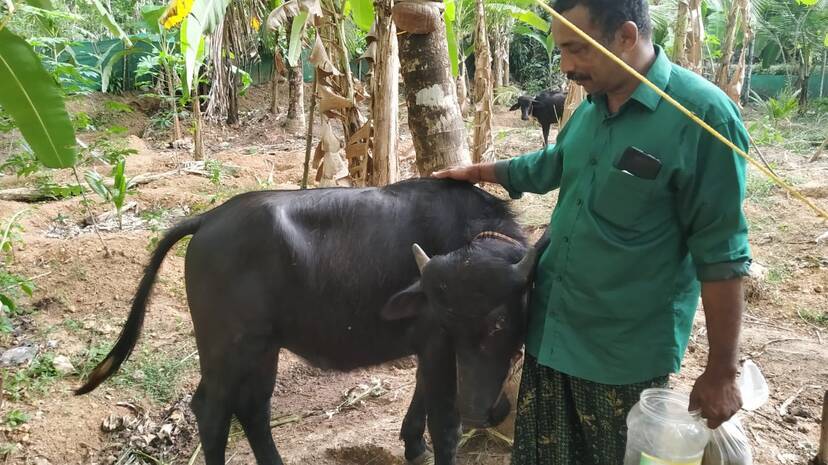 THIRUVANANTHAPURAM: Performing his duties as a police sub-inspector and cultivating his land with a spade is the same for Santhosh Kumar. There is no compromise on either.
Santhosh Kumar, of Radha Vilasam at Karimankode near Palode, stepped on a field with his father at the age of 15. He has an income of Rs 25000 a month as profit. Paddy was the main crop and cattle rearing was another source of income. Education and agriculture went hand in hand. He joined the police in 1996 after completing his M.Com. Even then he didn't give up on farming. He has been serving as Thiruvananthapuram Control Room Grade SI for three years. His wife Bindu runs a provisional store near Palode. They have two children-Shruthi, a degree student and Swathi, a plus two student.
He has four more years of service. He wants to be a full-time farmer after retirement. Currently, there is someone to look after the farm. The desire is to set up a layover spot for the elderly near the farm.
Fish and streams
The main feature of the farm is the streams. This is where fish farming is done. Pomfret and murrel are in plenty. Those in need can fish with their own bait and can pay after catching it.
A section is there for buffaloes and fodder. Not only bananas and tapioca but also vegetables are grown as intercrops. As it is an organic farm, people come from far and wide to buy the crops.
Black hen and guinea fowl
Not only goats, cows and ducks, but there are different breeds of chickens here. Among goats there are breeds like Jamnapari, Silomi, Beetal along with local ones.