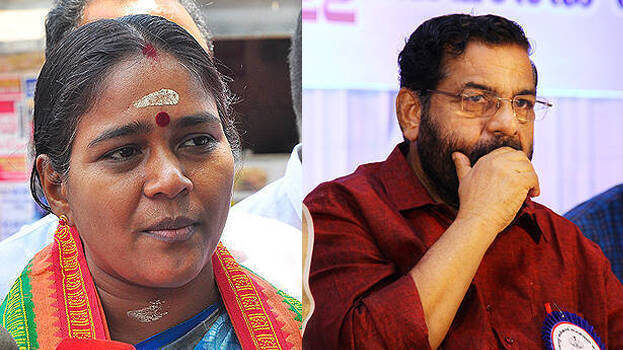 THIRUVANANTHAPURAM: NDA candidate in Kazhakootam constituency, Shobha Surendran has lashed out at CPM candidate Kadakampally Surendran. "Have never seen such a fakester like him. Vandalism in Kattayikonam was meant to corner me. It was due to the centre's intervention police took action against the miscreants," she said.
"The action against CPM workers was meant to convince Kadakampally that there is a police force above the Kerala police. The police took actions against the miscreants on the centre's intervention. I was not even able to vote.
Kadakampally should never think that policemen will put their hats on CPM leader's head anymore," Shobha added.
"BJP will win from Kazhakootam. The functioning of the party in the grassroots was carried out like an oiled machine. BJP will get LDF's votes. BJP is able to protect its votes now," she said. Shobha Surendran also added that those who love K Surendran might have voted for him in Manjeshwaram.