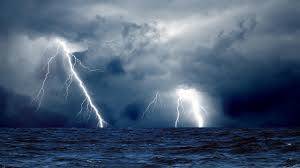 The South Indian state of Kerala has been witnessing widespread rain and thundershower activities since the last one week. As per observations, April 22 was the rainiest day wherein, Kerala recorded almost 3 times its normal rainfall activity. However, From the last two days, weather activities have slightly decreased over most parts of the state and only isolated rains were seen.
This drop in rains can be attributed to the Severe Cyclone Fani brewing in Bay of Bengal, which has been largely governing the wind pattern over Southern Peninsular. However, Fani has now moving closer to the Sri Lanka coast. It is presently centered at Latitude 9.2°N and Longitude 86.9°E over southeast Bay of Bengal and adjoining areas. This is around 610 km east­-southeast of Trincomalee, Sri Lanka, 840 km southeast of Chennai and 980 km south­-southeast of Machilipatnam.
With the system's movement, we can see a fresh surge in the Arabian Sea that would infuse further moisture to cyclonic storm Fani. As a result, we can expect fairly widespread rain and thundershowers with some heavy spells over a few places from April 30 - May 1.
State authorities have issued an alert for the eight districts such as Kottayam, Ernakulam,Idukki, Thrissur, Palakkad, Malappuram, Kozhikode and Wayanad for the next two days.
These rains and thundershowers would be accompanied with thunderstorms and squally winds to the tune of 40 kmph to 50 kmph.
Kerala is the main contributor in terms of rain during the pre-Monsoon season in South India. However, this season, the state mostly remained deficient and its deficiency ranged between 30 to 40 percent till now. With the rains last week, the rainfall deficiency of Kerala has now being recovered and as of April 28, the state is observing 24% rain deficiency.