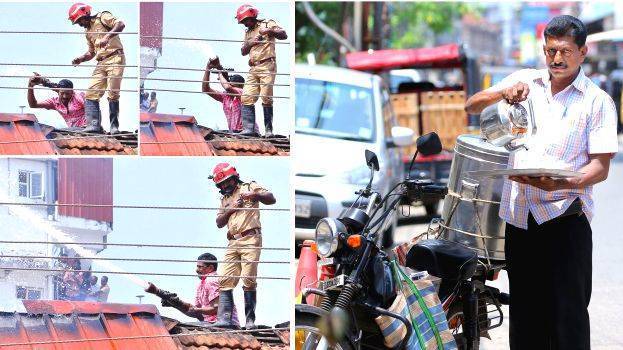 KOCHI: Sabu noticed that alarming thing when he had just parked his scooter at his usual spot at Padma Junction in Kochi and started pouring coffee into the glass for a customer.

Billows of black smoke were emerging from a building opposite to him. The very next moment he discarded his vehicle and coffee jug and ran through the narrow lanes of the Broadway. He rushed to the nearby building, removed roof tiles and reached the top. He then took the water gun of fire-fighting firemen and fired water at the fire.

The photo of these moments captured by Kerala Kaumudi Chief Photographer N R Sudharma Das had gone viral on social media. A massive fire broke out in a cloth bazaar in the busy Broadway market in Ernakulam district of Kerala around 10 am on Monday. The shops which caught fire in the cloth bazaar were Bhadra Textiles and KC Textiles.

Sabu, the brave hero, who risked his life to quench the fire, narrated those moments. "Since the direction of the wind was from East to West, I told the firemen to fire water in opposite direction. It was difficult to enter the shop as there was dark smoke and fire everywhere. I asked them to down a ladder… didn't wait for it and jumped into the shop; the firemen followed suit.

Sabu who loves adventure from childhood has done many such rescue operations before. Sabu lives in Mulavukattu with his mother wife Biji and children Albin and Aleena. He came to Errnakulam 15 years ago to eke out a living.

Early morning at around 2, he wakes up and takes out his auto-rickshaw for hired service. By 8:30 am, he's home and goes out for on his scooter for coffee sale. After lunch, he again gets indulged in his coffee business till 7 pm.