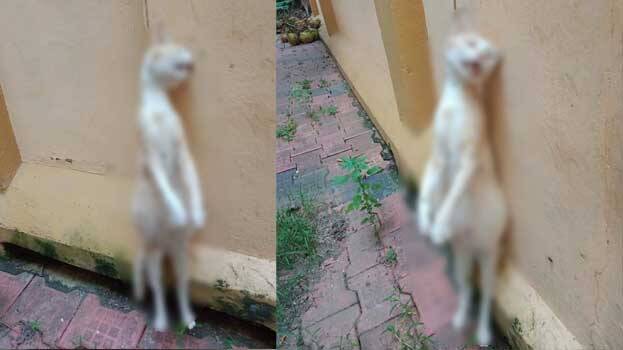 THIRUVANANTHAPURAM: A pregnant cat was found dead hanging from a rope along a compound wall of a club in Paalkulangara, Thiruvananthapuram. It is learnt that a group of drunkards who frequented the club did this cruelty. People used to play cards and drink here as per local sources. The body of the cat was sent for post-mortem.
The Vanchiyoor police registered an FIR under the Prevention of Cruelty to Animals Act based on a joint complaint filed by Parvathy Mohan, campaign coordinator for Federation for Indian Animal Protection Organisations, and Latha India, Kerala secretary for the People for Animals (PFA). Parvathy, on Facebook, has posted the gruesome pictures of the murdered animal hanging from a rope. In her post, Parvathy said that the police tried to avoid case even after informing.
Parvathy also said that locals tried to bury the corpse, and attempted to convince the informant not to file a complaint.
In her Facebook post, Parvathy urged people that only talk about the nuisances of cats and dogs shouldn't turn a blind eye towards this brutality. She reminds that people who casually does such cruelties for their weird satisfaction wouldn't be reluctant to do anything.