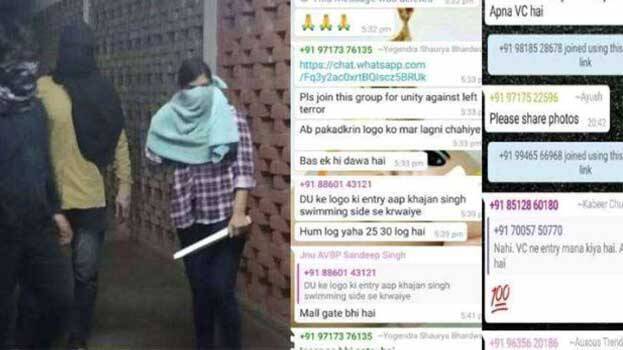 NEW DELHI: While the entire country is shocked by the violence at the JNU campus on Sunday night, certain leaked messages have surfaced online which proves that the attack was a well planned one. According to reports, the messages were exchanged in a Whatsapp group called 'United Against Left'. The messages include the route for the attackers to enter the campus.
According to the student union, the attack was launched by ABVP members and outsiders supporting them. Following the attack, the students had also held a protest in front of the Delhi Police Headquarters. The new leaked messages further put ABVP on the defensive. Meanwhile, the ABVP has alleged that certain left-wing members were behind the attack.
The Students Union has also demanded the resignation of JNU Vice-Chancellor and also accused the VC and Delhi police of facilitating the attack.
The Home Ministry has sought a report from the Delhi police regarding the violence. Several leaders including Union ministers Nirmala Sitharaman, S Jaishankar, Delhi CM Arvind Kejriwal, opposition leaders Sonia Gandhi, Rahul Gandhi, P Chidambaram and Mamatha Bannerjee had condemned the attack.