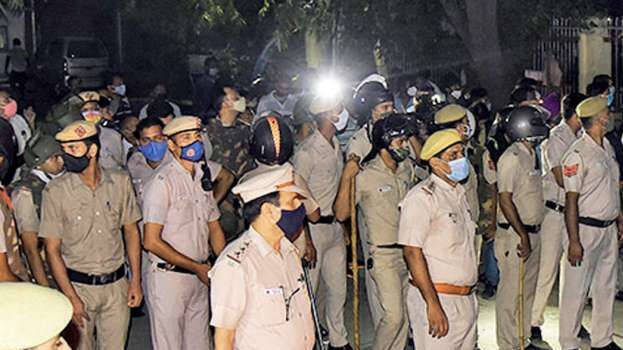 LUCKNOW: After the alleged gang-rape and brutalization of a 19-year-old Dalit woman in Hathras Uttar Pradesh the Uttar Pradesh police have come under the scanner and are also causing a political stir as the opposition demands justice for the victim.
The incident triggered nationwide anger after the victim who had been taken to Safdarjung hospital in Delhi for treatment succumbed to her injuries. The Uttar Pradesh police later cremated her body late night despite protests by the family. Now, the victim's family has expressed their dissatisfaction with the police investigation and has demanded a CBI inquiry.
Here are the latest developments in the case
The Lucknow bench of the Allahabad High Court took Suo Motu cognizance of the case and has issued a notice to the Uttar Pradesh government. The court has sought a response from the ADG, and DM Hathras in the incident.
The victim's family is dissatisfied with the police probe. They want either a CBI probe in the matter a different judge on the case. On the contrary, the administration claims that they are satisfied.
The district administration in Hathras has imposed Section 144 in the area and has banned the entry of all 'outsiders' including media persons.
FIR lodged against 200 Congress workers including Rahul Gandhi and Priyanka Gandhi Vadra who were detained and sent back to Delhi while they were trying to reach Hathras to meet the family of the victim of the gangrape and murder case. On the detainment of Congress leaders Rahul Gandhi, Priyanka Gandhi, the UP police told that the leaders will remain in police custody until the situation normalizes.
Ghaziabad lawyers have demanded President Rule in Uttar Pradesh. A report by PTI says that the lawyers demanded the dismissal of the Yogi Adityanath government and the imposition of President Rule. They have said that the case has tarnished the image of the country and would flatten its progress graph.
On Thursday a senior Uttar Pradesh police officer also said that the forensic report revealed that the victim was not raped and the reason behind death is a neck injury. The UP police has alleged that some persons wrongly presented facts for disturbing social harmony and create caste violence.