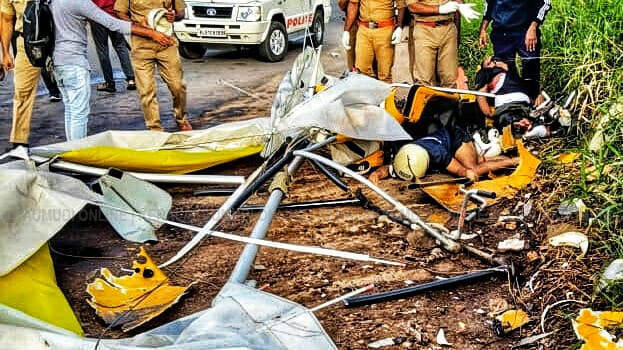 KOCHI: Two naval officers were killed after their glider aircraft crashed in Kochi. The dead has been identified as Lt Rajeev Jha (39) from Uttarakhand and petty officer Sunil Kumar (29) from Bihar. The accident happened near the BOT Bridge Sunday morning at 7 am.
Jha is survived by his wife and two kids. Kumar was not married.
Though the seriously injured were taken to INS Sanjivani, the two were declared dead on reaching there.
Gilder is a small aircraft used for training. Only two can travel in it. The accident happened when they were on a routine training.
It happened near the BOT Bridge near navy's headquarters. It crashed in an isolated place on the road near the bridge.
Witnesses said there was a delay in rescue operations. The glider that crashed has been shifted from the accident spot.
The Southern Naval Command ordered an inquiry in to the incident.