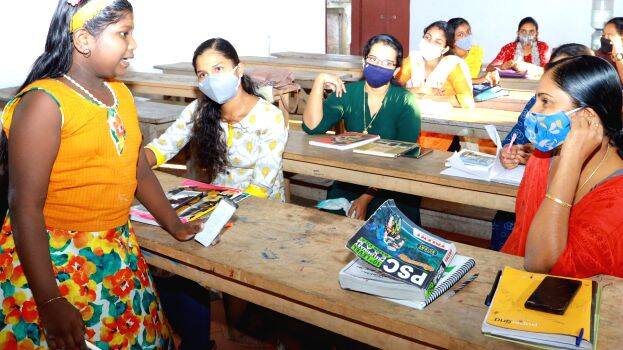 ALAPPUZHA: Nine-year-old Sreevaiga is a star in PSC coaching centers as she teaches GK and Maths for students much elder than her.
She has already taken about 100 classes at various centers from Chengannur to Aroor. is half an hour. She takes no money for her classes, which is half an hour long.
How did Vaiga learn all this at such a young age? At the age of four, she walked into a coaching center with her mother Indulekha. Her husband Ajayakumar, a lumberjack, will go to work at that time. Since there was no one to look after her daughter, Vaiga was taken with her to class.
When the mother reads the lessons at home, the daughter answers before the mother. That's how the daughter's ability came to notice. Gradually Indulekha began to tell her everything she was learning. Indulekha, who has passed General Nursing, started going to the coaching center in search of a government job.
People at the coaching centre was amazed when she told them about her daughter's talent. Soon Sreevaiga started teaching students, including her mother. Those who heard began inviting her to take the class.
Collector Anupama is the role model
Anupama, who was a collector in Alappuzha is Sreevaiga's favourite person. The fourth class student of Alappuzha Carmel International School says it was a great pleasure to meet and talk to her. Her desire is to be another Anupama. Collector A Alexander gave her a tab for online study. The family lives in Purakkad in Puthuvanachira, Ambalapuzha. Vaiga's younger brother is three year old Sankaranarayanan.
Ten answers per day
Vaiga studies answer to at least 10 questions a day. For this, notes will be prepared from PSC guides, newspapers and social media.
My father says that only if you study well can you get the job you want. My mother helps to learn the questions and answers-Sreevaiga