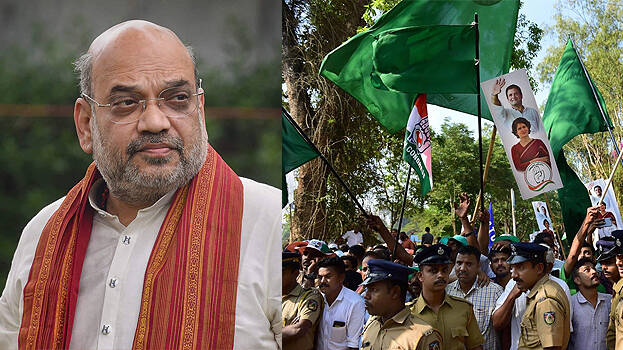 WAYANAD: It has been alleged that the Muslim League was banned from hoisting their flag during Rahul Gandhi's road show in Mananthavady. There has also been footage of league activists who came to attend a road show returning the league flag. The CPM alleges that the ban on hoisting the League flag was based on a secret agreement between the Congress and the RSS in Mananthavady.
However, the UDF explained that only the flag with the symbol was used in the road show. At the same time, the Mananthavady constituency Muslim League committee said that the Left and other interested parties were making such campaigns out of fear of losing in the Mananthavady constituency and that it was their imagination that the flag was not hoisted.
The Muslim League claims that the RSS affiliation of the Left candidate in Mananthavady has come out and that it has provoked opposition among the people and that it is the Left's attempt to cover it up. Constituency general secretary PK Azmat said such allegations could not disable the League workers.
Rahul Gandhi spoke in his vehicle as DYFI had already booked the venue at Mananthavadi Gandhi Park where he had decided to give his speech. But his speech was interrupted several times due to mic malfunction. Apart from Mananthavadi, the UDF had organized a road show of Rahul Gandhi at Sultan Bathery.
When Rahul Gandhi was contesting in Wayanad in the last Lok Sabha elections, the comparison of the flag of the Muslim League with the flag of Pakistan by the present Union Home Minister was a big controversy. Amit Shah said that if you look at the rally in Wayanad, you can't tell if it is in India or Pakistan and why Rahul is contesting in such a place.