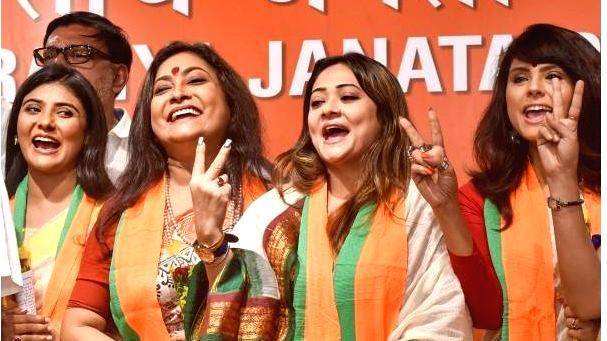 KOLKATA: Mamata Banerjee had fielded popular celebrities in the Lok Sabha polls. Nusrat Jahan, Mimi Chakraborty, Satabti Roy, Deepak Adhikar were among the most popular. Nusrat Jahan and Mimi Chakraborty created waves in parliament as well.
Now, television and film artists from West Bengal joined the BJP in presence of West Bengal BJP unit president Dilip Ghosh and party leaders Sambit Patra and Mukul Roy here on Thursday.
The list of actors joining the BJP includes Rishi Kaushik, Parno Mitra, Rupanjana Mitra, Biswajit Ganguly, Deb Ranjan Nag, Arindam Halder, Moumita Gupta, Anindya Banerjee, Sourav Chakraborty, Rupa Bhattacharya, Anjana Basu, and Kaushik Chakraborty.
Trinamool Congress had great success by fielding stars from movies and television serials. The BJP is following a similar path now.