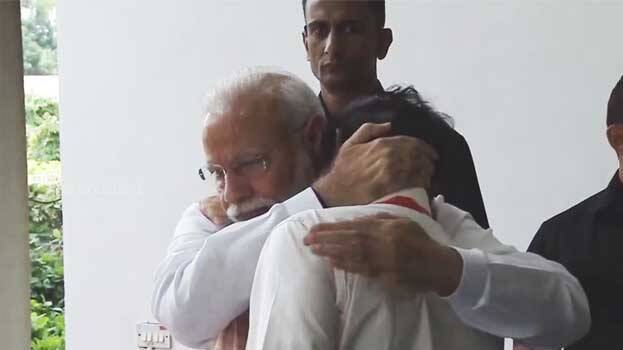 BENGALURU/NEW DELHI: ISRO headquarters in Bengaluru witnessed certain emotional moments as Prime Minister Narendra Modi consoled a heart-broken ISRO chief, K Sivan Saturday morning. Modi hugged and patted hin when he broke down after announcing that Chandrayaan 2 lander during a historic moon landing attempt.

PM Modi had flown to Bengaluru on Friday night to watch the landing of Vikram lander. After the ISRO chief briefed him about the glitch in final phase of the mission, the said in his address to the scientists: "Our determination to touch moon has become even stronger and the best is yet to come."

In a setback earlier today, contact was lost with the moon lander Vikram minutes before it was due to touch down near the lunar south pole. If the landing was executed successfully as planned, India would have become the fourth country -- after the United States, Russia and China -- to soft land on the moon.

In his nearly 30-minute long address to the ISRO scientists, PM Modi said "resilience and tenacity are central to India's ethos".
"In our glorious history, we have faced moments that may have slowed us but they have never crushed our spirit. We have bounced back again and gone on to do spectacular things. This is why our civilisation stands tall," he said.

"As important as the final result is the journey and the effort. I can proudly say that the effort was worth it and so was the journey. Our team worked hard, travelled far and those teachings will always remain with us. The learnings from today will make us stronger and better," PM Modi added.

PM Modi hugged the ISRO chief outside the space centre after the speech. Reacting to the visuals of Mr Sivan breaking down when he was hugged by PM Modi, BJP MP Tejasvi Surya tweeted: "That #ISRO Chief Shivan broke down into tears only shows how invested he was in success of the mission (sic)."

PM Modi's gesture has appreciated by several ministers. Union Minister Kiren Rijiju wrote on Twitter: "This is the moment when a nation stands tall, India is with you"- PM @narendramodi ji said to boost the morale of the @isro scientists."

Chandrayaan 2, the first expedition by ISRO to attempt a soft landing on the lunar surface with home-grown technology, is India's third mission to a celestial body after Chandryaan 1 mission in 2008 and the Mars Orbiter Mission in 2013.

Though Vikram lander missed the target, the orbiter can still take pictures of the moon and send it to the ISRO over the next year.