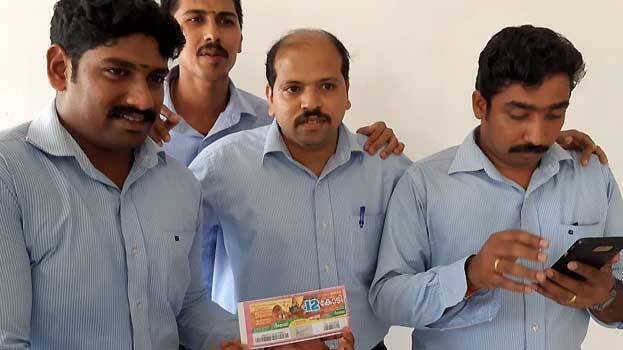 THIRUVANANTHAPURAM: Six employees of Chungath Jewellery in Karunagapally won the state government's Onam bumper. Rony, Vivek, Ratheesh, Subin, Ramjim and Rajeevan are the lucky ones to have bagged the bumper prize. The lottery ticket was taken through lots by Minister G Sudhakaran. The amount is Rs 12 crore which is the largest prize money in the history of Kerala. The winners will get an amount of Rs 7.56 crore after income tax and agent's commission.
The ticket was sold to them by agent Sivankutty of Kayamkulam in Alappuzha. TM 514401 bagged second prize of Rs 5 crore. TG 135467 bagged the third prize. 46 lakh lottery tickets printed were completely sold this morning. The government has obtained a profit of Rs 29 crore.
Ten will get 50 lakh each for the second prize. 20 will get 10 lakh each for the third prize. Two each will get the prize for each series. Last five digit will get the fourth prize. 180 will get one lakh each. 16,000 will get an amount of Rs 5000 for the fifth prize.
10 crore was the prize money last year. 46 lakh tickets printed has been sold for more than 43 lakh. The sale of the bumper ticket of Rs 300 started on July 18.