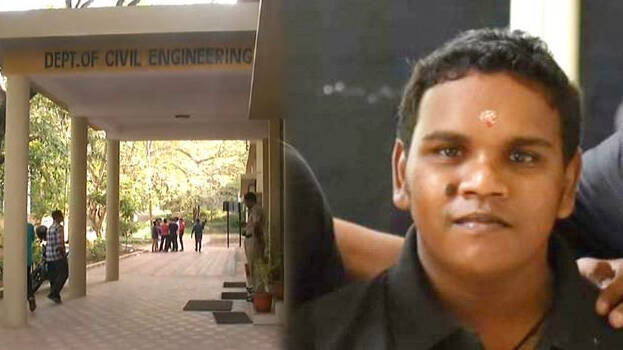 THIRUVANANTHAPURAM: Mystery shrouds the death of B.Tech student found dead in the bathroom of CET Engineering College. The relatives of the student demanded inquest under the presence of the RDO. Relatives allege mystery over student's death, but was reported as a suicide.
Ratheesh Kumar (19) was a first year civil engineering student of College of Engineering, Trivandrum (CET). He was a native of Neyyattinkara but was staying in Ulloor.

Though initial reports say it is a suicide, his friends are also raising allegations. A thorough inspection was not held in the college campus. The body was first seen by security employees of the college.
Ratheesh's aunt Girija (mother's sister) had lodged a missing complaint on Friday at the Sreekaryam Police. As his mother passed away, he was under the care of his aunt. Ratheesh along with his aunt had reached college on Friday to write the first semester exam.
Students said that he left the class forty five minutes before the exam ended. When Girija reached college to pick him up, he was found missing. Though the students searched the college, they could not find him. The security found the body when they broke opened the door of the bathroom after finding it locked from inside.
The body was shifted to the medical college hospital. A team led by Sreekaryam sub inspector Saju Kumar and a dog squad conducted a search at the college on Friday. Though the location of his mobile was found at the main building of the college, no other information was found.
A raid by an excise team at the shop in front of his house selling ganja had nabbed some people a couple of months ago. Some attacked him brutally thinking that it was Ratheesh who informed the excise team. Later miscreants set on fire the car parked in front of his house.
Girija suspect the hands of her husband Anirudhan behind his death. She said a team led by her husband had attacked them. He had always disturbed Ratheesh. Meantime, college principal Prof Gigi said that he did not have any suicidal tendency.