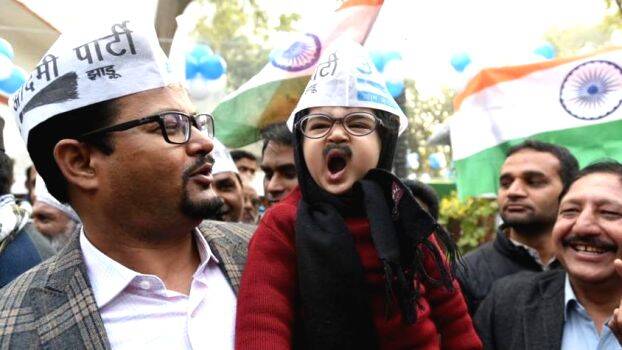 NEW DELHI: As Arvind Kejriwal is all set to swear in as Delhi Chief Minister on Sunday, a special guest will be seen sitting in the front row of the swearing-in ceremony. The guest is none other than Avyan Tomar, ta one-year-old boy who has already shot to fame as 'Little Kejriwal'.
Avyan became popular after he was seen sporting a muffler, cap and mustache like Kejriwal during the victory celebration of AAP workers. Avyan, son of AAP Rahul Tomar and Meenakshi Tomar, soon became a sensation on social media and was noticed by leaders of the part. Following this, the family was invited to attend the swearing-in ceremony. "We very happy that we have been invited to the ceremony. Though Avyan is just one year old, he immediately breaks into dance when he hears 'Lage Raho Kejriwal song' and manages to say 'AAP'," said an excited Rahul Tomar.
The swearing-in ceremony will take place at the Ramlila Maidan at 10 am on Sunday. Though Prime Minister Narendra Modi was invited for the function, he informed that he will not be able to attend the function as he is in Varanasi.