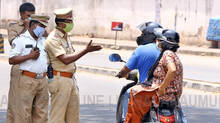 KOCHI: The number of cases registered by the police against lockdown violators in Kochi has tripled. Currently, cases have been registered against 263 persons. Among them, there are persons who went out by foot.

In the morning, police filed case against 30 persons to deter people coming out on roads. But as time passed by, more and more people started appearing on roads.

A number of people have given affidavit to the police as a mark of their willingness to cooperate. Police have taken into custody the vehicles of people who were caught for violating the guidelines for the second time.