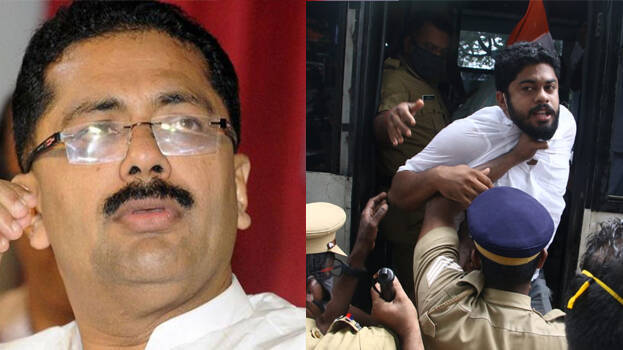 KOCHI: It has been eleven hours since Minister K T Jaleel reached the NIA office in Kochi. Protests intensify for his resignation outside when he is questioned inside. He arrived at the NIA office in a private vehicle at 6 am. Jaleel arrived at the NIA office early in the morning to avoid the media, but his moves were not successful.
Jaleel who left the capital city last night in his official car called his friend and former CPM MLA A M Yousaf at 1.30 am for a car. He asked his friend to send a car at the PWD Rest House in Kalamassry early morning. According to that, the car reached there at 4.30 am. Jaleel reached the NIA office in this car at 5.30 am. The security officials of the NIA office were shocked to see the minister at that time. They didn't expect the minister to arrive at that time. The minister sat in that vehicle till he was summoned inside.
Jaleel waited there for the officials to arrive. The officials reached the office at 8.15 am knowing his arrival. The questioning started at 8.30 am.
It is hinted that the officials refused to some of the minister's demands like whether questioning could be made online, whether it could be at midnight etc. Following that, he appeared in person. He reached early morning fearing the presence of the media.
The opposition and the BJP have come forward for his resignation after knowing that the NIA had summoned him for interrogation. The opposition parties have planned to intensify agitations. Opposition leader Ramesh Chennithala said the minister should resign without facing further embarrassment. BJP state chief K Surendran said two agencies of centre are convinced of the offences he committed and with this BJP's allegation that he smuggled gold has been confirmed.
Meantime, the CPM is of the stand that the demand for his resignation cannot be accepted. CPM central committee member M V Govindan Master said he is not an accused in any case related to gold smuggling and there is no need for him to resign